2018 status updates
In reverse chronological order
Dec 25, 2018, 2:01 PM
50 years ago

Anders: Oh my God! Look at that picture over there! There's the Earth coming up. Wow, that's pretty.

Borman: Hey, don't take that, it's not scheduled. (joking)

Anders: (laughs) You got a color film, Jim? Hand me that roll of color quick, would you…

Lovell: Oh man, that's great!

https://www.space.com/42848-earthrise-photo-apollo-8-legacy-bill-anders.html

Dec 2, 2018, 7:34 PM
From Haley's baby shower

Nov 12, 2018, 4:02 PM
On this day in 1966, Buzz Aldrin took the first selfie in space while standing on his seat and hanging out of an open hatch as part of the Gemini XII mission. https://appel.nasa.gov/2016/11/21/this-month-in-nasa-history-gemini-xii-made-a-spacewalk-look-like-a-cakewalk/
Nov 7, 2018, 3:04 PM
Mid-Term Election Results that make me happy:

With Democrats leading the house, there will be nothing done against Social Security and Medicare. There will be no serious attempt to destroy the Affordable Care Act. More to the point, for the first time in two years, there is an institution of the government that is neither afraid of, nor controlled by, Trump.

The arc of Donald Trump's political career is not ascending.

Notable House Wins

Democratic women won everywhere. As of now, 98 women have won or are projected to win seats in the House, 82 of whom are Democrats.

Democrat Chris Pappas will become New Hampshire's first openly gay member of Congress.

Deb Haaland & Sharice Davids will become America's first Native American women in Congress.

Rashida Tlaib & Ilhan Omar will become America's first Muslim women in Congress.

Alexandria Ocasio-Cortez will become America's youngest woman ever elected to Congress.

State Legislatures

Democrats gained about 300 seats.

Democrats gained "trifectas" — controlling the governorship and both houses of the legislature — in six states: Colorado, Illinois, Maine, Nevada, New Mexico and New York.

In addition, they took away Republican trifectas in four more states, three by winning the governorship (Kansas, Michigan and Wisconsin) and one by taking both chambers of the legislature (New Hampshire).

They also flipped the Maine Senate and Minnesota House, and won supermajorities in the Oregon House and Senate.

Democrats also won enough seats in North Carolina to break the GOP supermajorities in both houses there, meaning Republicans can no longer override Democratic governor Roy Cooper's vetoes. They also broke Republican supermajorities in the Pennsylvania Senate and Michigan Senate.

Governor's Races

Jared Polis: the first man to win a governorship as an out gay man. Polis has been in Congress since 2009.

Which means that the Colorado cake baker who refused to bake a cake for a gay couple now has a gay governor.

In addtion to that, Democrats flipped seven Governor's seats in Nevada, New Mexico, Kansas, Wisconsin, Michigan, Illinois and Maine. Those victories included defeats for reviled Republicans Scott Walker and person-who-lied-constantly-about-voter-fraud Kris Kobach. Republicans did not win any governorships held by a Democrat.

Medicaid expansion

Ballot initiatives passed in three deep-red states — Nebraska, Idaho and Utah — to expand Medicaid eligibility under Obamacare, and a fourth state — Kansas — elected a Democratic governor who replaces a Republican who previously nixed an expansion that was supported by the Republican-controlled state legislature.

That's four states set to join the 33 that have already expanded Medicaid.

Miscellaneous

Anti-Gay Kim Davis lost her job as county clerk in Rowan County, Kentucky!

Voting rights and democratic reforms were expanded in Michigan, Utah, Colorado, Nevada and Maryland.

Florida voters chose to cast off a legacy of Jim Crow and allow felons who have served their time to vote, which will mean that 1.6 million Floridians will get their voting rights restored.

Louisiana decided that unanimous jury verdicts should be required in order to convict someone of a felony, ending a Jim-Crow era law.

A strong gun safety measure passed in Washington state.

Michigan voters legalized recreational marijuana, and medical marijuana was approved in Missouri, Oklahoma and Utah.

Voters in Missouri and Arkansas passed increases in the minimum wage.

The youth vote was the highest its been in 25 years and a 10 point increase from 2014.

In House races, D's got 51.3 million votes while R's got 47.2 million.

In Senate races, D's got 45.3 million votes while R's got 33.4 million.

Aug 15, 2018, 2:18 PM
Please
⊂ヽ
  \\ stop staring
   \( ͡° ͜ʖ ͡°)
    > ⌒ヽ
  🍤🍤   へ\
   /  /  \\at my shrimp tits
   レ ノ   ヽ_つ
  / /
  / /|
 ( (ヽ.
 | |、\
 | 丿 \ ⌒)
 | |  ) /
ノ )  Lノ
(/

Apr 23, 2018, 4:20 PM I can't believe Homer went to Gene's Po-Boys- (this is two blocks from my house for you out-of-towners)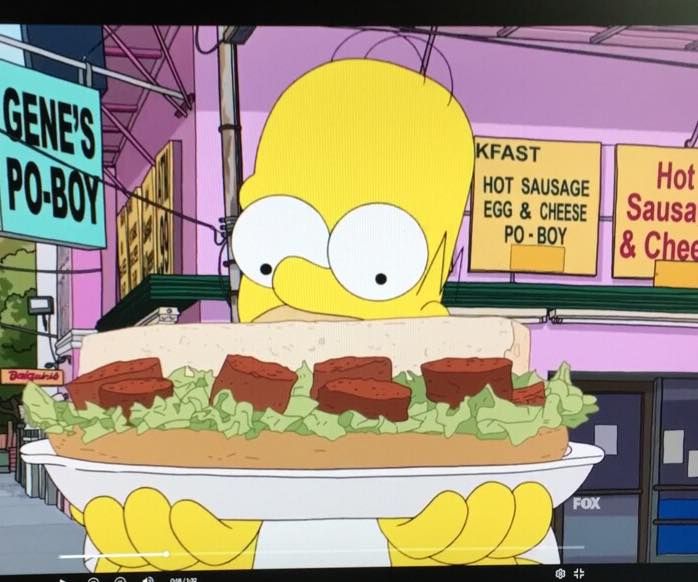 Apr 7, 2018, 2:36 AM
Jesus, filling out a crossword puzzle: "I'm stuck on 2 across."
Mar 16, 2018, 4:35 PM
"Look back upon your life and ask: What up to now have you truly loved, what has raised up your soul, what ruled it and at the same time made it happy?

"Line up these objects of reverence before you, and see how they form a ladder on which you have so far climbed up toward your true self."

German philosopher Friedrich Nietzsche

https://www.psychologytoday.com/blog/somebodies-and-nobodies/200909/what-shall-i-do-the-rest-my-life

Feb 28, 2018, 8:28 PM
This drunk guy fell down in front of our car.

Ed called the performance "low altitude parkour."

Feb 8, 2018, 1:48 PM
Republicans only care about the debt when a Democrat is president.

https://www.washingtonpost.com/business/economy/republicans-are-completely-reversing-themselves-on-the-deficit/2018/02/07/1a693872-0c2c-11e8-8890-372e2047c935_story.html
Jan 28, 2018, 4:37 PM
Where TV seems to be headed:

CBS's "Big Little Mediums" is an immediate hit in week one.

Origin story "Big Little Mediums: The Early Years" is launched on TV Land in week two.

By week five, they spin-off the most popular sidekick into a new show, "Medium Large," to air following original show.

By week thirteen, people are nostalgic for how they fell in love with the show but thirsty for something new. Reboot immediately into "Big Little Mediums Confessions," an R-rated, raunchy version to air on Showtime.

Week 40: Half of programming on all Viacom/Paramount owned networks is B.L.M. related. The most popular show is "He's Big, She's Little" starring Kevin James and Leah Remini.

Next year: There is only one TV show on all of television. It's not even called "Big Little Mediums" anymore, just "THE SHOW". It's just different permutations / reboots / forwards / backwards / younger cast / older cast / soft-core porn / cartoon / news / sports / Antiques Roadshow versions of it.
Jan 21, 2018, 4:01 PM
Sequel Title Ideas for "Three Billboards Outside Ebbing, Missouri"

Three Billboards II: Four Billboards

2 Billboards 2 Missourious

Three Billboards Origins: Yard Sign

Three Billboards and a Baby

Three Billboards 2049: LED Advertising Display

🎶FIVE HUNDRED TWENTY FIVE THOUSAND SIX HUNDRED BILLBOARDS🎶

From: Bill Corbett
###