The Horribleness of Trump
I'm so sick of the lies, the meanness, the lack of leadership. Winning? Only in COVID cases. The entire world is looking at us and laughing

Look at this graph. We are losing the COVID battle because there is no national leadership, and worse, the national leadership is not stressing the correct thing to do (WEAR MASKS).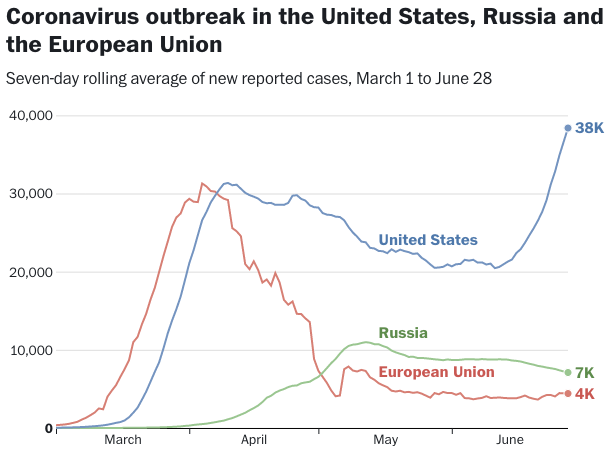 America's second wave is now higher than its first.

NOTE: The population of the EU (the red line) is bigger than the USA.

Does he actually want his supporters to get sick???
Hours before Trump took the stage at the

BOK

Center in Tulsa…workers were labeling thousands of seats with

"

Do Not Sit Here Please!" stickers to promote social distancing, part of a safety protocol.
The campaign went through and removed the stickers. Washington Post

Check out a sampling of the falsehoods and distortions from him last week:
AP FACT CHECK: Trump's see-no-evil posture on coronavirus

Chris Hayes Calls For Trump To Resign: 'Urgent Matter Of Public Health, Public Safety'

He cannot articulate a reason why he deserves a second term.
Here's the transcript of Trump's response when he was asked what are his top priorities for a second term. pic.twitter.com/XKMawRiXFs

— Daniel Dale (@ddale8) June 26, 2020
He also told Hannity that Joe Biden is "gonna be your president because some people don't love me, maybe."

Actually, the entire Republican party is complicit in supporting Trump's behavior at every turn, and therefore horrible as well.
For example…
Let's face it, if a GOP politician actually cared about anti-mask ranty guy, they'd say to him "sir, the coronavirus is very real and dangerous, especially to those over 60, so I urge you to wear a mask to protect yourself and those you love."

This is why some call today's GOP a "death cult." They'd rather lie about climate change than take action that might save the lives of their great-grandchildren. They'd rather see their base infect each other in churches and hair salons than admit the virus is real.

What does it say about a political party that it can't even muster the integrity to say to its own supporters "I hear you, but you're wrong, and if you continue down this path you are endangering your life and the lives of those around you?"

How does someone who understands science continue to be associated with such an irresponsible party and also continue to sleep at night? I don't know what monstrous threats they think Trump's GOP is protecting the nation from…but they must be pretty huge.
excerpted from this twitter thread

Zoom out and it looks even worse.

It feels like we the people have had enough.
Trump Job Approval 41% —– Disapproval 55%

###