COVID-19: April 12, 2020
Local Impact:
In Louisiana, the numbers are going in the right direction.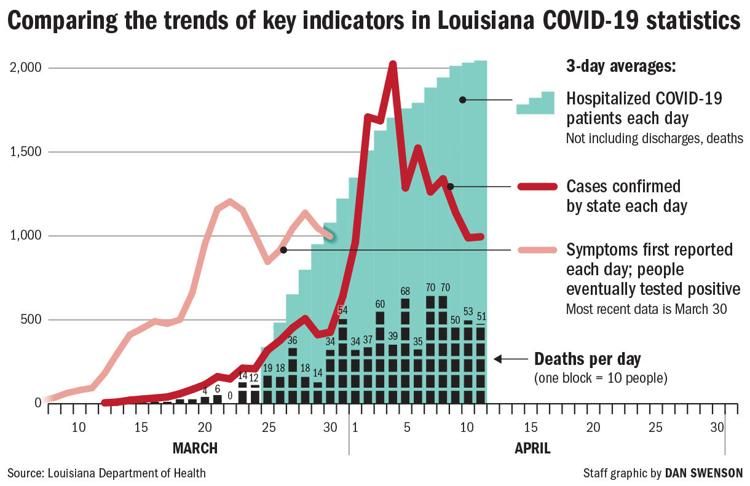 The rate at which we are adding new cases is slowing. The number of daily deaths, the number of new hospitalizations, and the amount of patients on ventilators are all decreasing.
BUT
We have no vaccine — and, barring a miracle, we won't until next year.
We have no effective treatments yet.
We have only very porous defenses — social distancing — which amount to a drastic, utterly unsustainable shift in how we live from day to day. And that's it.
We don't know how how widespread it already is in the population at large, and we don't know if it can reactivate in those who have recovered from infection.
You can be infectious for 1 to 14 days before developing symptoms. That's time you could be infecting others.
It's a gamble how it will affect you if you are infected:
30% have no symptoms
56% have mild/moderate symptoms then recover
10% are hospitalized and recover
4% die.
No way to tell which group will you be in.
So, until there is a vaccine and it has been mass-produced and the whole country has taken it, the virus is still around and outbreaks will still occur.

'We're getting closer': Coronavirus spread slowing in Louisiana, stats show; long road still ahead (Times-Picayune/Advocate)

Luckly, last Sunday's prediciton was totally wrong and exponential growth did not zoom us up to 44K-49K cases. Louisiana only at 20.5K cases today.

Personal Impact:
Ed did the grocery shopping this week.

Articles:
Must-read of the week
He Could Have Seen What Was Coming: Behind Trump's Failure on the Virus
An examination reveals the president was warned about the potential for a pandemic but that internal divisions, lack of planning and his faith in his own instincts led to a halting response (New York Times)
Also:
Vote-By-Mail?
Government: CAN'T BE DONE.

Pay-Taxes-By-Mail?
Government: DO IT OR YOU'RE GOING TO JAIL.

— Neal Brennan (@nealbrennan) April 7, 2020

Your Moment Of Zen
"Many people ask, 'When will this end?' There is only one answer to that. It will end just as soon as we make it end, by our combined efforts, our combined strength, our combined determination to fight through and work through until the end."
— Franklin Roosevelt, January 6, 1942.

Links:
Centers for Disease Control Coronavirus landing page
Louisiana Dept. of Health: Coronavirus landing page, Twitter
City Of New Orleans Coronavirus updates, Twitter

91-DIVOC is an interactive visualization of the exponential spread of COVID-19
###